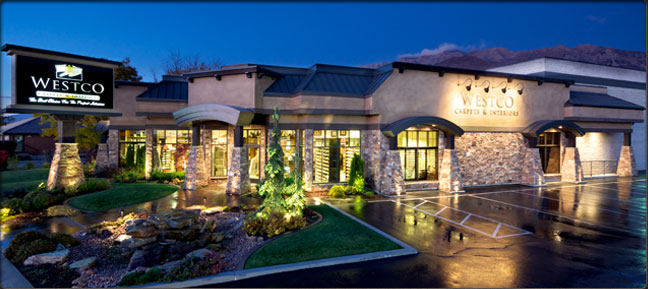 Westco Carpets & Interiors first opened its doors in Orem, Utah in February of 1988. It was founded by Brad and LaRicia Belliston, as they began their married life together their desire was to stay in Utah, raise a family and grow a successful family business.
Westco started out as a small floor covering store with only two employees. They began by working closely with local contractors and apartment owners with the goal of offering quality products, superior installations and unprecedented customer service.
It wasn't long before Westco outgrew their initial location. In 1992 they expanded into a new facility and began providing window coverings, and wall coverings, along with custom interior design services. Their goal was to offer a comprehensive array of unique and stylish products, combined with professional service at affordable prices.
WESTCO CARPETS & INTERIORS HAS BECOME ONE OF UTAH COUNTY'S LONGEST-RUNNING AND MOST SUCCESSFUL PROVIDERS OF FLOOR COVERING AND INTERIOR DESIGN SERVICES.
In just a few short years, and because of their unparalleled success, Westco Carpets & Interiors once again found it necessary to move its operations to an even larger facility. So in 1996, Brad and LaRicia purchased ground in north Orem and built a beautiful showroom with an expansive warehouse at their current location situated at 1814 North State Street. In May of 2011, Westco completed an extensive renovation and stunning remodel of their existing building and landscape. The result is a magnificently inviting business location which reflects the look and feel of current design trends of today's homes, both inside and out.
Over the past 33 years Westco has had the opportunity to work with many clients, homebuilders and business associates. This has allowed them to establish solid and trusted relationships within the community, and to understand that the most valuable assets they have are their loyal customers and employees.
Brad and LaRicia Belliston believe in giving back to the community and have always been generous contributors to several local charities and organizations. Westco has always strived to not just meet, but exceed their customers' expectations for professionalism, honesty, integrity and value. It's our belief that through hard work, a commitment to excellence and an unmatched dedication to customer service, Westco Carpets & Interiors has become one of Utah County's longest-running and most successful providers of floor covering and interior design services.